Boeing Boeing coming in August!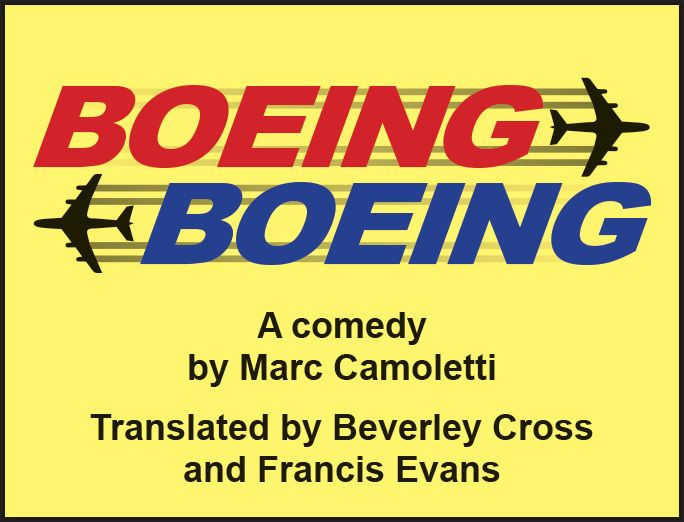 Join CHP for the hilarious comedy Boeing Boeing August 19-21 at The Church of St. Therese, Main Street, Gloucester.

Performances will be at 7:30 p.m. Friday and Saturday and at 3 p.m. Sunday. Social hour begins an hour in advance for each show. All those attending are invited.

Tickets for adults are $17 in advance or $18 at the door. Student tickets are $5.

For questions about the show, call 804-854-3748.

For ticket information, click here.
About the Show
In this fast-paced, fun-filled adult comedy, Bernard (CHP newcomer Kevin Clauberg)
, an American architect living in 1960s Paris, has been masterfully juggling engagement to three air hostesses (Sherry Parsons, Wren Beavers, and J J Brazil, in order of appearance) through careful study of their airline  flight schedules and a great deal of begrudging assistance from his housekeeper Berthe (Becky Hogge). He does not realize that, while he genuinely adores all three (none of whom knows about the others), deep down he is truly in love with only one. But which one?  What will become of the other two if he ever has that epiphany?

Bernard's comfort with his routine gives way to anxiety, as the 'perfect storm' of events upsets all three airline schedules and Bernard finds himself having to receive all three fiancées on the same day. Just as this happens, an old friend, Robert (R J Erickson), drops in for a visit. Naïve, somewhat noble, and not at all approving of the lifestyle, Robert gets caught up in Bernard's attempt to overcome 'the storm' and keep all three fiancées from meeting.

Will Robert help his old friend, leave him to his solve his own problem, or something else?  How will the fiancées react if any of them meet?  Will Bernard's housekeeper continue to help him, leave him to deal with his twist of fate, or something else?

Written in 1962, Boeing Boeing originally ran in London for seven years, with over 2,000 performances, and in Paris for 19 years. It is in the Guinness Book of Records as the most produced/performed French play throughout the world.

In the U.S., the show had a short Broadway run in 1965, yet it still inspired a film version starring Tony Curtis and Jerry Lewis which opened that same year. In 2008, the award-winning director/dramatist Matthew Warchus brought Boeing Boeing to new life in a Broadway revival that ran for 279 performances, with a cast that included Christine Baranski, from the hit musical Mama Mia and TV's The Big Bang Theory.

The show won two Tony awards (Best Revival of a Play and Best Leading Actor), was nominated for four other Tonys, and also won the Drama Desk Award for Outstanding Revival of a Play and Best Leading Actor.